[VF du post disponible plus loin dans la page]
AAAaah! Papercraft, what a healthy & soothing activity! Between two brutal sessions of hardcore Arcade scoring on Pix, it's exactly what you need to wind down.
With the help of our latest artist intern, Miryam, we came up with a snazzy little Pix papercraft.
Well I guess how good you are with your hands will determine exactly how "snazzy" it is, hah!
Here are a couple tips to help you achieve world class quality results that would make even the best papercrafters jealous! (There are certain things in life you don't mess around with, papercraft is a prime example!)
1) Although your future masterpiece will sit comfortably in the palm of your hand, don't be fooled! You'll need lots of room. It's the perfect opportunity to clear up some space on your desk!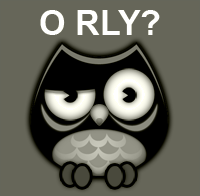 2) If possible, use a box cutter and a metal ruler for cutting (of course the young'uns should ask help from an adult, as is often mentioned in directions from multinationals so they're covered in case they get sued when someone mistakenly loses an arm, woops)
3) Before applying glue, it's suuuuuuper important to crease your folds really well, don't be afraid to use a ruler depending on how thick your paper is. This will avoid your paper Pix to go all over the place while the glue is drying.
There you go! You're just one Right Click / Save As away from experiencing true happiness!
IT'S PAPERCRAFT TIIIIME!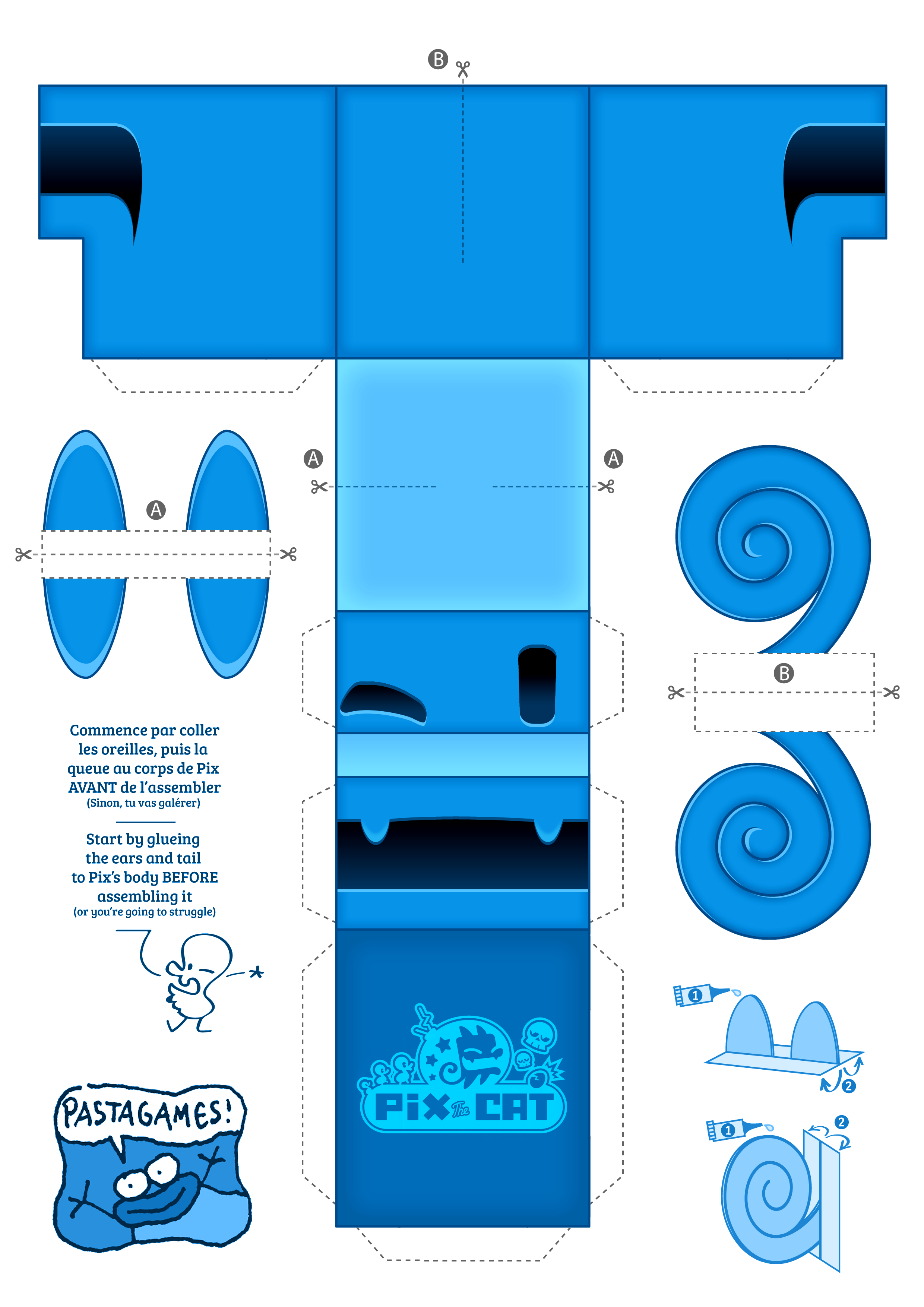 And this is what the final result looks like!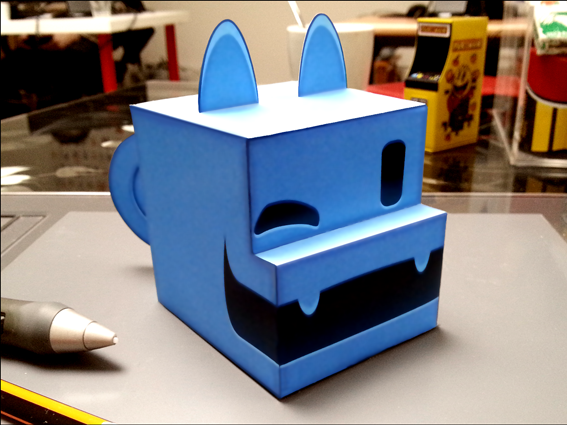 Enjoy!
Hervé
[Translation, courtesy Thomas]


AAAaah! Les papercrafts, quelle saine activité! Entre 2 séances de scoring sur le mode Arcade de Pix, ça détend.
Avec l'aide de notre dernière graphiste en date, Miryam, nous vous avons préparé un joli papercraft de Pix.
Enfin, "joli", ça dépendra de la dextérité de chacun, hé hé hé!
J'en profite donc pour vous filez 2/3 petites astuces qui vous permettront d'obtenir un résultat digne des plus grands papercrafters du MOOooonde! (ah oui, il y a des choses dans la vie qu'il faut prendre au sérieux!)
1) Ne vous fiez pas au fait que votre future œuvre tienne dans la main, vous aurez besoin de plus de place que vous ne l'imaginez! C'est l'occasion idéale de faire place nette sur son bureau ou sa table du salon!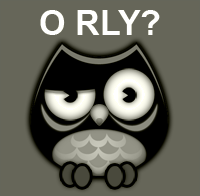 2) Si possible, privilégiez l'utilisation d'un cutter et d'une règle en métal pour la découpe (évidemment, pour les plus jeunes, on ne manquera pas de "se faire aider par un adulte", comme le mentionnent souvent les multinationales pour se couvrir en cas de procès suite à un malheureux bras coupé)
3) Avant le collage, super important, on marque bieeeen les angles de pliages, éventuellement avec une règle selon l'épaisseur du papier utilisé. Cela évitera entre autre que votre Pix de papier ne parte en sucette alors que la colle n'est pas encore sèche.
Et voila, vous êtes maintenant à un clic droit/enregistrer sous du bonheur!
IT'S PAPERCRAFT TIIIIME!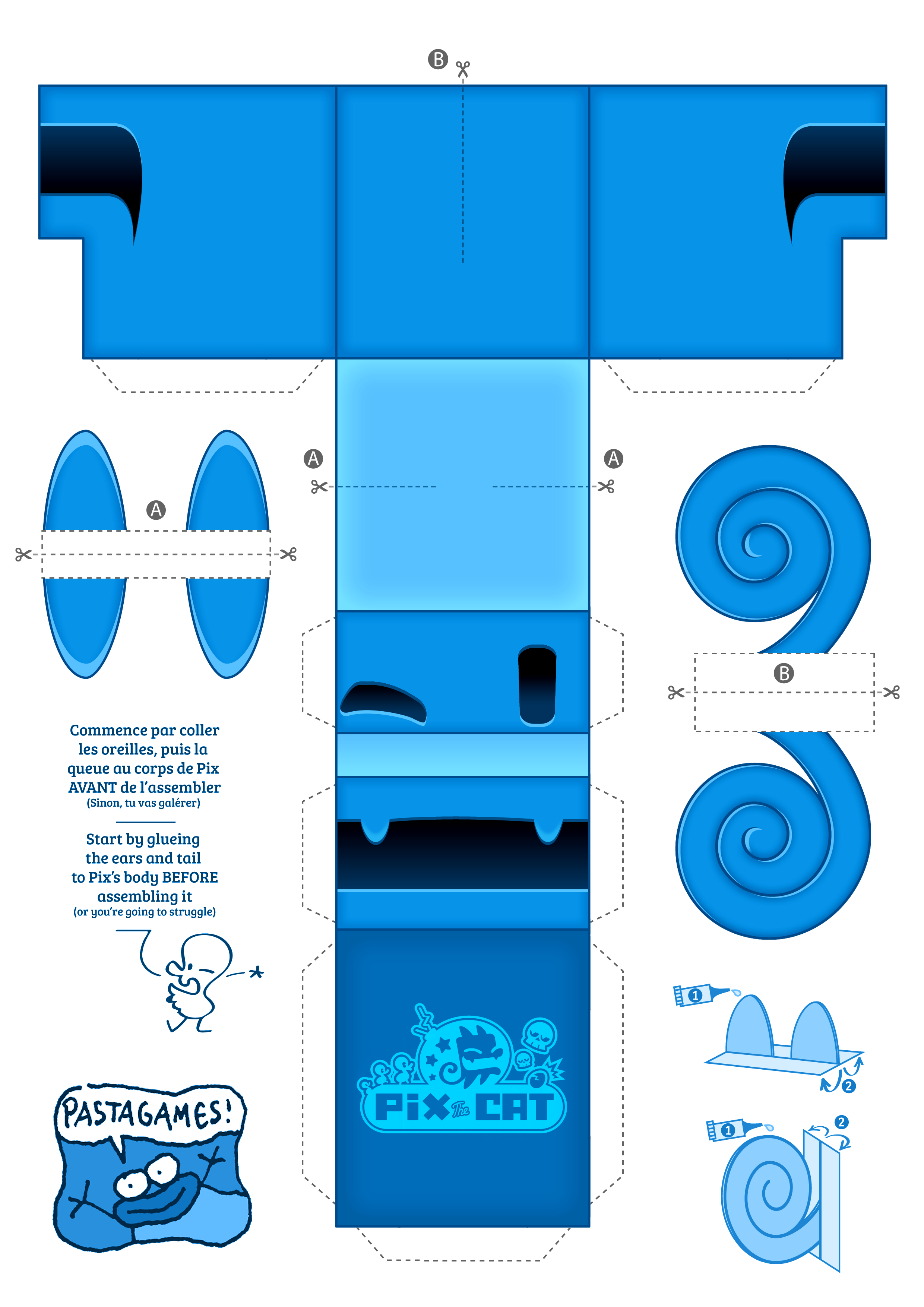 Le résultat final! Ta-daaaaa!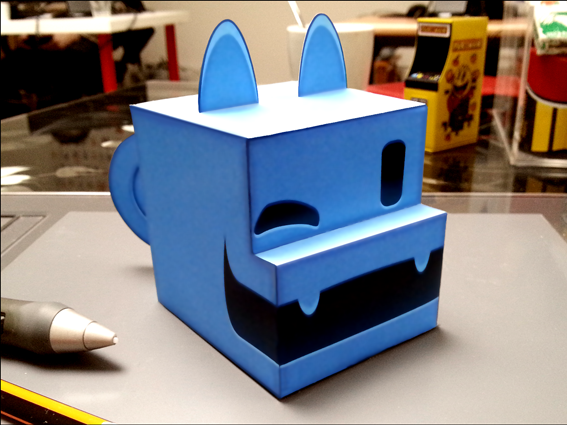 Enjoy!
Hervé